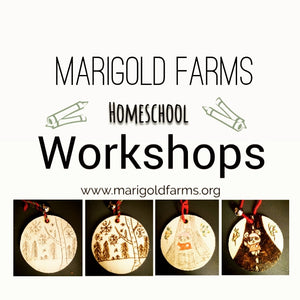 Homeschool Workshops
Sale price Price $20.00 Regular price Unit price / per
As a Homeschool mom; I wanted to create Workshops specifically for Homeschooling families! These Workshops will offer an hour to and hour and a half of drawing and coloring projects that will help inspire kids individual creativity, at a special Homeschool rate for groups of 6+. Younger kids will create their art without using hot tools, and I will then take them home and burn their art into the wood before returning it to you. The older groups can create their art and then learn how to use the hot tool and the techniques of pyrography art.... Homeschool Workshops are offered in home, but I will also be scheduling special homeschool events on the South Shore, follow us on Facebook and Instagram for all the latest updates! Some of these special events will include creating Maps, Self Portraits, and also Special Holiday Workshops! 
Workshops must be scheduled and required deposit must be received before workshop is reserved.
Workshop Policies 
Make your own Art and Homeschool Workshops can be canceled up to 2 weeks prior to scheduled event with full refund. If canceled within 2 weeks prior to event, all but your deposit will be refunded. Full payment requirements are determined on an individual basis.